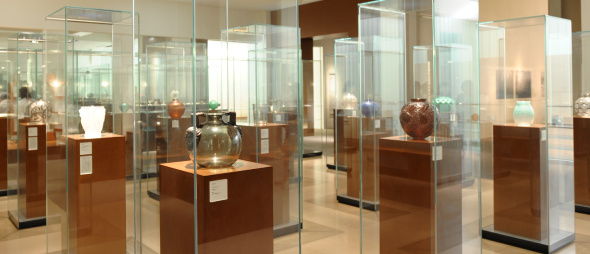 René Lalique (1860-1945) is a French artist of "Art Nouveau" and "Art Deco" era, primarily known as a craftsman of the objects in glass and also as a master of jewelry.
Lalique Museum, Hakone owns the collection of more than 1,500 of Lalique pieces including over 200 precious jewelry.
Enjoy the world of Lalique in the beautiful nature of Hakone, just two-hour drive from Tokyo.

Hours
9:00 am - 4:00 pm
Last admission to the museum: 3:30pm,
Close on the 3rd Thursday
( open every day in August )
The museum might be closed temporarily during exhibition preparation period.
Parking
Free of charge
Address
186-1 Sengokuhara, Hakonemachi,
Ashigara Shimo-gun, Kanagawa 250-0631, Japan
TEL:81-460-84-2255
| General Admission | Fee |
| --- | --- |
| Adult | ¥1,500 |
| High school and College student, Senior (65 and older) | ¥1,300 |
| Junior High and Elementary school student | ¥800 |
Group discount (15 or more visitors)
No admission required into garden area, restaurant and shops.
Guide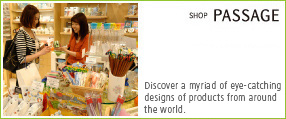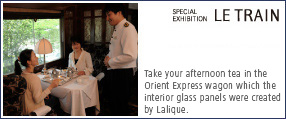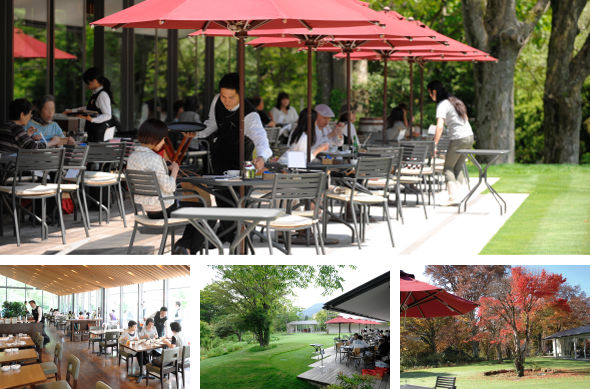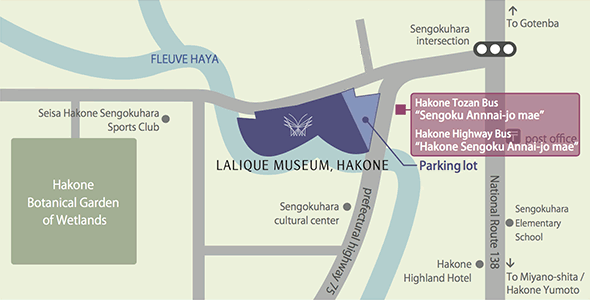 By Odakyu
Romancecar
or Train & Bus

| | |
| --- | --- |
| ● | From "Hakone Yumoto Station" of Hakone Tozan Train, take Hakone Tozan Bus "Kojiri/Togen-dai route" and get off at "Sengoku Annai-jo Mae" (approximately 30 minutes) |

| | |
| --- | --- |
| ● | From Shinkansen bullet train/JR "Odawara Station", take Hakone Tozan Bus "Kojiri/Togen-dai route" and get off at "Sengoku Annai-jo Mae" (approximately 45 minutes) |

By Highway Bus

| | |
| --- | --- |
| ● | Take Odakyu Hakone Highway Bus from "Shinjyuku Station" and get off at "Hakone Sengoku Annnai-jo" (approximately 120 minutes) |

| | |
| --- | --- |
| ● | Take Odakyu Hakone Highway Bus Haneda Route from "Haneda Airport"→"Yokohama Station"→"Gotenba Station"→get off at "Hakone Sengoku Annai-jo" (approximately 150-165 minutes from "Haneda Airport") |

By Car

| | |
| --- | --- |
| ● | Take Tomei Expressway and get off at Gotenba exit, approximately 20 minutes to Sengoku-hara thru Otome-Touge |


Lalique Museum, Hakone exhibits approximately 230 of selected artworks out of its proud collection of more than 1500 pieces of jewelry and glass in the permanent exhibition section (1st floor and 2nd floor). The selection is changed during the year according to the theme or the season of the year.
Entrance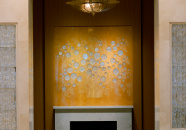 At the entrance, visitors are welcomed by the ornament panel "Bouquet" and the chandelier "Hunting" which invite you to the world of Lalique.
Jewelry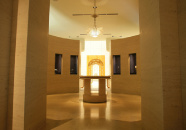 Visitors will experience the world of precious jewelry of Lalique in this section. Lalique Museum, Hakone is the only place in Japan that about 30-40 pieces of Lalique's jewelry can be seen as a permanent exhibition. The selection is changed irregularly.
Perfume Bottles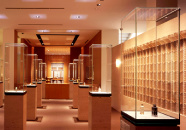 Lalique had changed his career from a jewelry designer to a glass maker after working with François Coty in creating perfume bottles. With the innovative and various designs, Lalique's perfume bottles were favored by ladies all over the world.
Interior decorations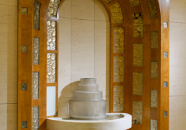 The fountain and the glass panels were created to decorate the interior of the dinning and the bathroom of the famous French fashion designer, Jeanne Paquin.
We also present other interior decorations by Lalique in the museum, such as chandeliers, wall lights, etc.
Collector's choice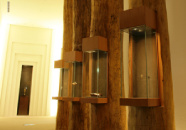 In this section, we present the four masterpieces selected by the founder of the museum, who has been a collector of Lalique artworks for more than 30 years.
Vases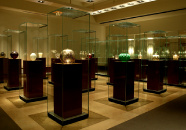 Vases were not only the vessel of flowers but also the "aesthetic objet" to Lalique. He created a variety of designs based on the request of the collectors. Open from 10:00 to 16:00 (reservation every hours) Duration of the visit 40 minutes 2,200 yen per person
Drawing room "Belle Epoque"
[1st floor of the museum]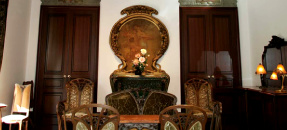 From late 19th century to the beginning of 20th century was the period called "Belle Époque (good old days)" in France.
This room was relocated from a residence of Belle Époque period, and was reconstructed in the museum.
Lounge "Salon de Sarah"
[1st floor of the museum]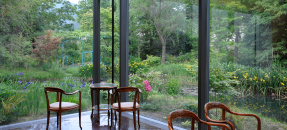 This lounge is dedicated to Sarah Bernhardt, the legendary actress of late 19th century, who often left the order with Lalique to create her jewelry and stage properties. Visitors can take a short break here, enjoying the great view of the garden.
Temporary Exhibition Room
[2nd floor of the museum]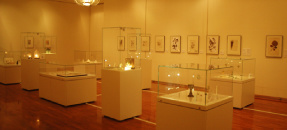 Various exhibitions on different themes on Lalique such as Japonism, nature or the craftsmanship are organized in this space.
Special Exhibition "Le Train"
[Café in the restaurant area]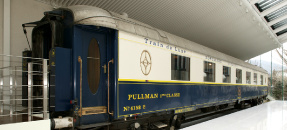 This gorgeous wagon is one of the greatest examples of Lalique's architectural projects. Designed originally for the express train bound for Côte d'Azur, the interior of this wagon is filled with Lalique's glass panels. You can enjoy a luxurious teatime with a cake in this beautiful salon car.

Please make a reservation on the day.
Duration of the visit 40 minutes 2,200 yen per person